Makeba Wright Takes Home Herald's Amazing Woman of the Year Honor
---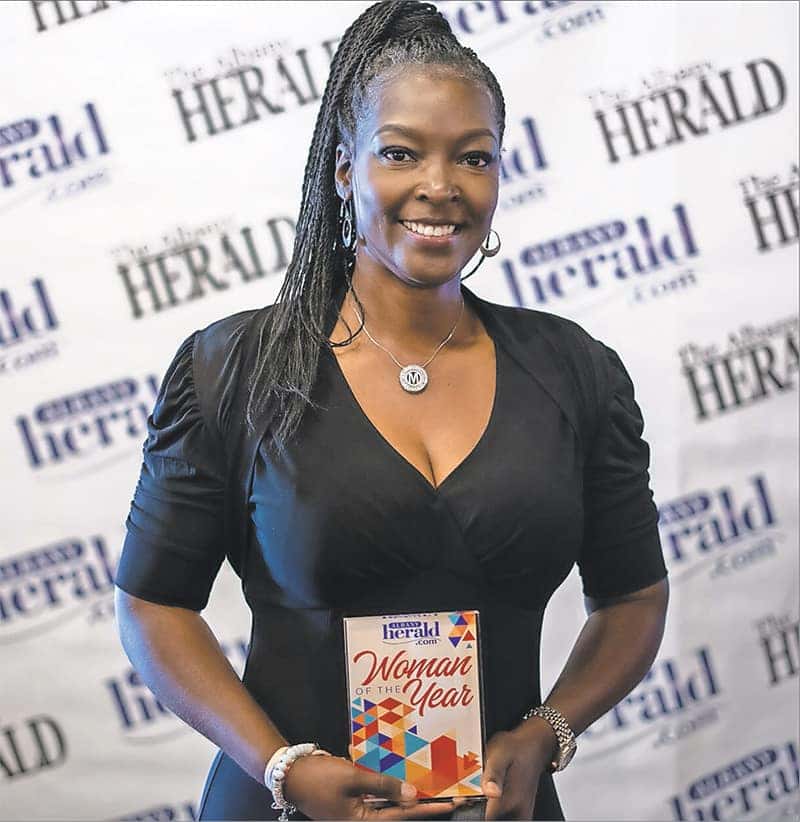 ALBANY – Makeba Wright was named The Albany Herald's Amazing Woman of the Tear Sunday night at The Herald's inaugural Woman of the Year awards banquet, held at the downtown Pretoria Fields Brewery.
Sponsored by the Herald, Pretoria Fields and The Queen Bee radio station, more than 4,500 nominations were submitted to the newspaper's AlbanyHerald.com website in an all-virtual format. More than 21,000 votes were recorded during the competition that honored southwest Georgia women.
A large crowd of women and their male supporters came to the brewery for the unveiling of the winners in 65 categories or subcategories, where they enjoy music by members of the Albany Symphony Orchestra and food prepared by Cork's Wine and Charcuterie and Southern Elegance Catering.
"I just can't believe this," Herald Advertising Manager Heather Harrison, who oversaw the voting process and hosted the event, said. "This is just such an amazing crowd. And while it's great to see all these people here supporting this event, it's also great that we'll be able to make a substantial contribution to Liberty House.
"I think people were ready for an event like this. With more people being administered vaccines and COVID numbers going down, I think everyone felt safer, and they were ready to go out and enjoy themselves. The timing was perfect, and with an overall movement stressing women's rights in this country, I think people were also ready to celebrate women."
Wright, who is an employee of Albany Motorcars, said she was stunned to receive the evening's top award.
"Just being nominated was breathtaking for me; to win was just beyond my imagination," she said. "I want to thank everyone in the community who supported me with their votes. It's humbling to know there were so many people in my corner. I'd like to think that I deserved this award."
Albany City Commissioner B.J. Fletcher said she was "honored" to be selected as the top finisher in the Government/Public Service category.
"This is an honor, and I thank the people for their support," the Ward III City Commissioner said. "This was a very nice event, something our community needed. I thank the Herald and the Queen Bee for honoring our community's women."
Harrison said the idea for the event came from a conversation she had with Queen Bee Station Manager Tarra Dyer.
"Coming off the success we had with the Herald's Readers' Choice Awards, I met with Tara to see what else we could work on together," Harrison said. "She said she's always though the Herald should do something to honor women, and we took off from there.
"It was a huge success and a lot of the reason is our great sponsors. Queen Bee Tara and Pretoria Fields were amazing, and so was the food prepared by Corks, Southern Elegance and Broken Heart Bakery. The music by the symphony members was excellent as well. It was just a great night."
Harrison lauded Safeguard for supplying awards and gift bags and offered thanks to event sponsors: Gold sponsor Beauchamp & Idlett; Silver sponsors Albany State University, BMW of Albany, Albany Motorcars and MolsonCoors; Bronze sponsors AT&T, ASA Healthcare, Adams Family Pharmacy, Ameris Bank, Albany-Dougherty Economic Development Commission, Nikk's Products, Southern Surgery Center, Turner Job Corps and Vote, Run, Lead.
Logo and gift sponsors included Albany Area YMCA, CTSI, Hope EMS, Entuit Cleaning Services and the Lily Pad.