Mercedes-Benz Service near Leesburg GA

Cruising the backroads of Albany, Tifton, and Leesburg can be tough on a car. To get high-quality performance out of your vehicle, you'll need to make sure your Mercedes-Benz is up to date on its service, such as Service A and Service B.1 Schedule a service appointment online here!
Want to keep your car running smoothly? Come to Albany Motorcars, where we'll make sure your vehicle is up to date on the service it needs.
---
What is Service A and Service B?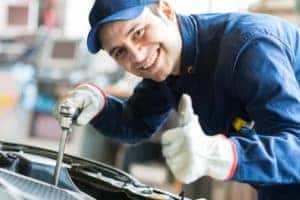 Service A and Service B involve maintenance that is crucial to keeping your Mercedes-Benz running smoothly. Service A includes a synthetic motor oil replacement, oil filter replacement, fluid level check and correction, tire pressure check and correction, brake component inspection, and a reset of the vehicle's maintenance counter.
Service B includes replacing the cabin filter and completing a brake fluid exchange.
Why Do I Need Service A and Service B?
There are several reasons you need to have Service A/Service B completed on your Mercedes-Benz to keep it running smoothly.
Synthetic Motor Oil Replacement and Oil Filter Replacement
Your synthetic oil is responsible for a few things. Firstly, it serves as a lubricant that keeps all the complex pieces of your engine running smoothly. Without the presence of synthetic oil, more friction would be created between the engine parts and decrease the performance of the vehicle in the process.
Additionally, synthetic oil keeps your engine clean. Constantly flowing throughout your engine, synthetic oil catches debris and dirt to keep the engine running smoothly. By the time you need a synthetic motor oil replacement, your synthetic oil will be too dirty to clean your car's engine and hinder the car's ability to run properly.
Similarly, your oil filter helps to catch dirt and debris to keep your engine clean.
Fluid Level Check
All fluid level checks and corrections are dependent upon your factory-recommended service intervals and your vehicle's year and model. Many important fluids allow your car to run properly. Therefore, having them checked will help ensure a smooth ride.
Tire Inflation Check
Having your tires checked will keep your car running at optimal levels. Subpar tire pressure could prove detrimental to aspects of your vehicle, such as traction and the fuel economy you can earn.
Brake Component Inspection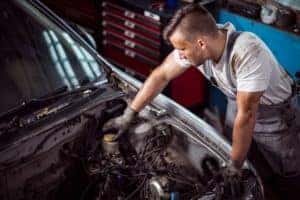 Brakes are undoubtedly important to your safety within your vehicle. To ensure they are in good shape, your brakes will be checked. Brakes that are worn or are malfunctioning could exhibit symptoms such as grinding noises, fluid leaks, a burning smell, and the ignition of your car's brake light.
Reset Maintenance Counter
Your maintenance counter helps keep track of when your vehicle needs service. During Service A, this will be reset.
Cabin Filter Replacement
Your cabin filter is responsible for cleaning the air that comes into the cabin of the vehicle. To keep this air clean, your filter will be replaced.
Brake Fluid Exchange
Your vehicle's brake fluid is what allows your car to respond to you physically pressing on the brakes. The fluid enables other parts of the car to respond to this stimuli and brake accordingly. During this part of Service B, your brake fluid will be drained and replaced.
Our Service Center
Our service center of advanced auto technicians is ready to help you and your car with any maintenance it may need. We know that the car-buying and -driving experience extends beyond taking a vehicle home for the first time.
We also run several service specials to help you get the care you need. Check out our website to see what offers we're currently running!
---
Get Mercedes-Benz Service Today!
If you've reached your factory-recommended service interval, bring your car to Albany Motorcars. We'll be happy to perform Service A and Service B to have your car running smoothly once again in no time.
We're proud to serve Leesburg, Albany, and Tifton drivers and look forward to assisting them! Contact us online to schedule a service appointment!

1 Price advertised for Service A/Service B includes all factory-required components. Please refer to your maintenance booklet for the complete list of factory-required services and details on the specific intervals for your vehicle's year and model. Service A/B is for Model Years 2009 and newer only.